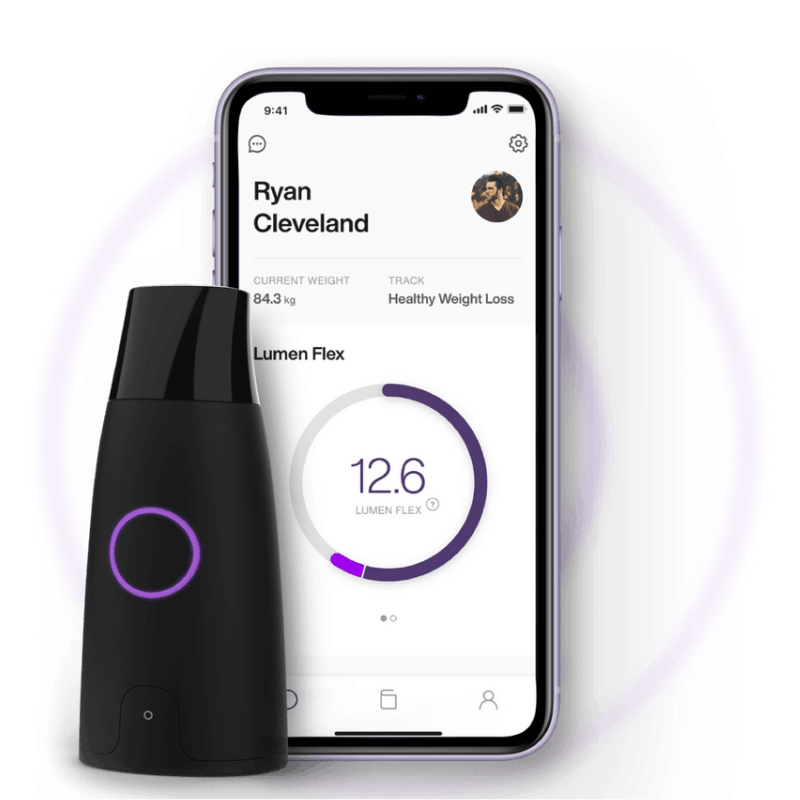 Lumen®
The first device to hack your metabolism!
Enhance fat burn, lose weight & boost energy naturally.
USE CODE 'ACCELERATED' FOR $50 OFF!
BUY NOW
The First Device To Hack Your Metabolism
Experience the power of your Metabolic Health. Enhance fat burn, lose weight & boost energy naturally with the power of one simple to use device.

The key factor in your metabolism is flexibility.
Metabolic flexibility is the ability of the human body to switch back and forth between fat and carbohydrates based on their availability.
TAKE 3 MINUTES
To change your life!
In 3 short minutes this video will demonstrate how the Lumen device is what you need to hack your metabolism, lose stubborn fat and increase your energy!
Metabolic tracking in the palm of your hand
Sleek & compact design
iOS and Android app
High-precision CO2 sensor
Travel Case
Unlimited measurements
Activity & sleep tracking
Metabolic health indicator
Workout optimization insights
Benefits of metabolic flexibility

Your metabolism can be improved, just like your body gets stronger and fitter from working out. Improving your metabolic efficiency leads to:

THE SCIENCE BEHIND THE LUMEN
Lumen is the first company in the world to develop a technology that can accurately determine metabolic fuel usage without the need for time-consuming systems that are only available in clinics and hospitals.
Teams of scientists and engineers have developed a new technique to measure the state of one's metabolism using a single breath. Lumen technology relies on both established and widely accepted scientific methods with a combination of multiple years of proprietary research and design.

Lumen uses a combination of patented algorithms, CO2 sensors, flow meters, barometric pressure, and temperature sensing technology, to determine the carbon dioxide concentration in a single breath.
Although we all exhale CO2, we do not all exhale the same amount of CO2 - each one of us has a unique CO2 range (CO2/total air ratio). In the initial stages of using Lumen, the device will learn your personal CO2 range in order to provide you with personalized, highly accurate results.

Using users' CO2 ranges, morning measurements, and Lumen's integration with Apple Health, Google Fit, and Garmin, Lumen provides daily nutrition recommendations to support anyone's goals.

Rather than encouraging people to count calories, Lumen's nutrition recommendations focus on the three macronutrients: fats, carbs, and protein. This is because while calorie intake recommendations provide a narrow, one-dimensional, quantitative approach to weight maintenance, a macro-based approach puts food quality first. By focusing on macros, Lumen's nutritional plan will support your body in your journey to health, better performance, and longevity.